Black women are some of the strongest, talented, beautiful, and bossed up women on the planet. Seeing Black women & business owners come together to support one another is a beautiful thing and being at Ubiquitous Women's Expo was something I feel many should be able to see, hear, and feel.
About:
On August 24 and 24 in Washington, D.C., Ubiquitous Women's Expo's celebrated its 6th year, and it was great to experience. Created by Detroit native Germaine Bolds-Leftridge, the two-day event featured quality exhibitors, star-studded entertainment, dynamic workshops, product demonstrations and panel discussions that will help improve and revitalize your mind, body, and soul. 
Bolds-Leftridge is the founder of GBL Sales, inc., and has established a long track record of sales achievements while demonstrated a keen ability to build strong business relationships with decision makers in the beauty for over twenty-plus years.
Her initiate drive to leave a mark on the beauty industry turned a passion project into the Ubiquitous Women's Expo. A call to action for African-American women to embrace and encourage one another to be our best selves, taking the focus away from what brings us temporary happiness in exchange for something more meaningful.
Brands like Cantu, Luster's Pink, Bigen, Shea Moisture, Every Hue Beauty, Mielle Organics, Aunt Jackies, and more were there to showcase products geared towards Black women's health, beauty, and hair. Along with haircare brands, it also had celebrity guests and performances. Chrisette Michele, Vivian Green, Casey J, Anthony Hamilton, Gizelle Bryant, Robyn Dixon, Kenya Moore, Kym Lee, Pastor Keith Battle, Dr. Celeste Owen, and Pastor Ylawnda Peebles were in attendance. 
"I love the show," stated Bryant, owner of Every Hue Beauty, and star from Real Housewives of Potomac. "I just love Ubiquitous. This is my third year here. I just love love the energy. It's open to other Black brands, I love the networking that happens here. So it feels like home to me."
And home it was for many people, including myself being a Black man looking into this world. It triggered something in me to see Black women and businesses strive, as well as being successful in multiple streams of business. Inspiration, love, and care seemed to be the words of choice with among multiple people that weekend.
As CEO of Every Hue Beauty, Bryant also spoke on creating a business. "It's hard work. You're going to hear a lot of non, you're going to make a lot of mistakes, but it's all about learning and moving forward. You can't get caught up in the mistakes…"
Ciara, a worker and ambassador for Bigen spoke on her hair experience. "My journey with haircare as a Black woman has been; it's a struggle," she stated. "It varies because you never know how your hair is going to be on certain days. I'm from Georgia. We have humidity, it's ridiculous… " She also shared her experience being here at Ubiquitous. "It feels great. It's great to see Black businesses, businesses in general that are women owned; it's been inspiring to me in every kind of way."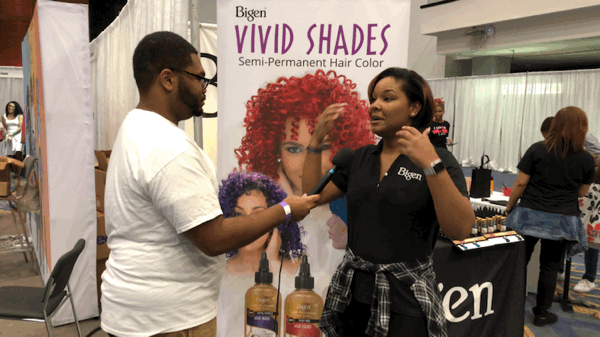 "I've been to Ubiquitous a couple times in my life," stated Yasmine, brand ambassador and owner of DarkerBerrie.com.  "This time I get to be a brand ambassador, so I get to walk around, talk to people, see a lot of products. I get to talk to the vendors about what they're bringing, and it's been really great. Some of the vendors are repeat vendors, and some are here for the first time. Must be good."
One thing Yasmine really loves about the event is the live product demonstrations. "It's good to see that you can watch the demo. Okay, you have the product, but how do you use it? See how to do your hair different, how to use the actual product."
Ubiquitous is a safe space of our culture, hair, entertainment, food, and more. It's something that if you can go, you should. Angela Basset once said a quote that encapsulated my thoughts about that weekend "Don't settle for average. Bring your best to the moment. Then, whether it fails or succeeds, at least you know you gave all you had. We need to live the best that's in us" 
The multiples businesses a part of the expo believed in themselves. They persevered and succeeded. That's a life lesson to be passed down for generations.