Wendy Williams is living her best life, and having the best hot girl summer she can. Catching up with the Kardashians, to Blac Chyna, to being seen with a 27-year-old possible boy toy, to her admitting that she has a new doctor boo. How You Doing?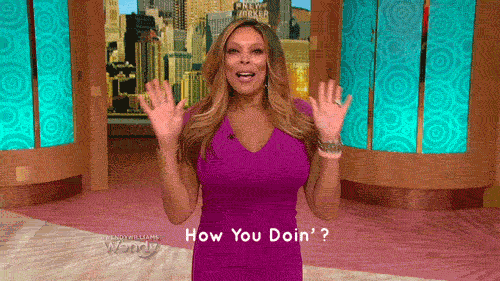 As soon as Williams said "Let's get started—I'm the Hot Topic," viewers knew her small hiatus return was about to be amazing. After taking 5 weeks off, Williams came back ready to have fun, get back to her co-hosts, and share the details of her brief break.
Williams Brunches with the Kardashians:
Over the past few weeks, Williams met up with Kris Jenner, Kim Kardashian, and Kanye West. Williams said that West missed his flight while he, Jenner, and Williams ate lunch. Williams even met North and Saint West. She even revealed that West took her into his library, which he doesn't do a lot according to Jenner.
Williams parties with Chyna:
During her L.A. stint, she also met up with Blac Chyna for L.A. Pride, partied with her, and her mom Tokyo Toni, Jackeé Harry, and even met Chyna's son Cairo with Tyga. Chyna and Williams became friends after her interview with the talk show host this year.
Williams and her love life:
Williams was spotted with a 21-year-old Marc Tomblin, who she was spotted with in New York, and L.A. However, Williams set the record straight on her love life. "I'm not on the market anymore… Look, I'm not in love. I'm not in love, but there's somebody that I'm crazy about…" Williams continues with "it's not who you think. OK. Mother doesn't deal with children."
Williams somewhat revealed who she is dating, and yes, he's Black. She stated that "when it comes time for the comfort of a man, I need someone in his 50s too. And he's gotta work. It helps that he's a doctor. I am not gonna say one more word, you're not gonna blow this for me. You're not gonna blow this for me. But he's been married, his kids are in their 20s…
Williams speaks on Lymphedema:
While thing are defining look up for Williams, she did take a moment to reveal that she has been diagnosed with Lymphedema, or lymphatic obstruction. The "long-term condition where excess fluid collects in tissues causing swelling (edema). The lymphatic system is a part of the immune system and vital for immune function. Fluid called lymph circulates within the lymphatic system," according to Medical News Today.
Williams on her Hollywood Walk of Fame Star:
Williams also shared that she found out she was receiving a star on the Hollywood Walk of Fame while being held up on a plane. "We're a part of the class of 2020, and they notify Bernie (her manager) at the top of year to reveal what day it is…" She continues, "I'm going to show out for that star honey."
All in all, Williams seems to be living her best while in the middle of a divorce. "I was just a woman relaxing and gathering my thoughts," she said of her time off-air. "I had my books, my thoughts, thinking about you, but mostly gathering my life for me, and my son and my family."