Will Smith addresses smacking Chris Rock at the 2022 Oscars in depth in a personal youtube video where he apologizes to the comedian.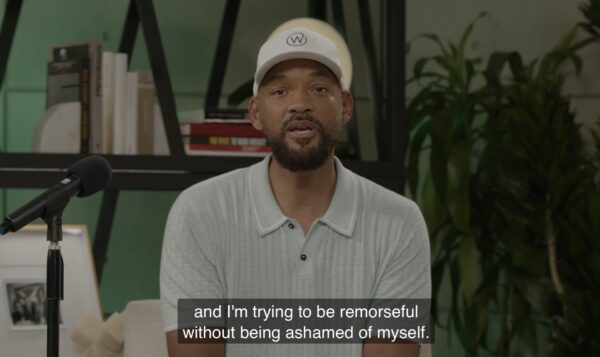 In the video, Smith said he has reached out the Rock, but the message that Rock was not ready and when he is, he'll reach out.
"My behavior was unacceptable and I'm here whenever you're ready to talk," Smith said in the video. Smith apologized to Rock's mother as well, adding that "in that moment, I wasn't thinking about how many people got hurt."
Smith also apologized to Rock's brother, Tony Rock, who Smith had a good working relationship with that stemmed from the mid-2000s sitcom, "All of Us."
Smith said he "spent the last three months replaying and understanding the nuances and the complexities of what happened in that moment."
Since the Oscar slap, Smith has been the board of the organization that decided that: "for a period of 10 years from April 8, 2022, Mr. Smith shall not be permitted to attend any Academy events or programs, in person or virtually, including but not limited to the Academy Awards. We also hope this can begin a time of healing and restoration for all involved and impacted."
Smith said that after the self-reflection, "there is no part of me that thinks that was the right way to behave in that moment," to what Smith called "feelings of disrespect or insults."
He also apologized to his "fellow nominees," and said the moment tarnished their moment, specifically citing Questlove as it happened during his award-winning moment for 'Best Documentary Feature.'
Smith said "disappointing people is my central trauma," when responding to a question about feeling feeling disappointed in him following the slap.
"I'm trying to be remorseful without being ashamed of myself," Smith said. "I'm human. I made a mistake. I'm trying not to think of myself as a piece of sh*t."
Smith also denied that his wife, Jada Pinkett Smith asked for him to do anything following the joke and Jada rolling her eyes.
"I made a choice of my own on my own experience and my history with Chris."