May 16 will be a special day for TV One. Not only will the Urban One Honors return, but DMX's final interview will air as a part of the docu-series, UNCENSORED. Urban One Founder and Chairwoman Cathy Hughes made the exclusive announcement on the URBAN ONE HONORS: Virtual Press Conference.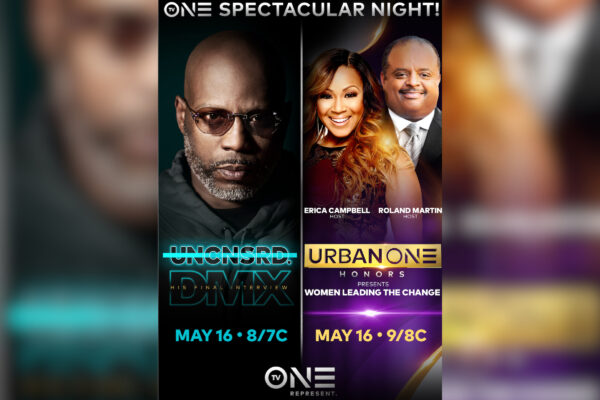 The Urban One Honors was created to acknowledge and pay homage to individuals and organizations whose work significantly impacts culture and society- at large. This year's Urban One Honors will commemorate the myriad achievements of women leaders who are blazing trails and creating new pathways for others in their respective areas of expertise. Categories of recognition reflect the tireless effort and triumphant accomplishments achieved by the honorees and include:  
VOTING RIGHTS CHAMPION: STACEY ABRAMS
INVESTIGATIVE JOURNALISM CRUSADER: NIKOLE HANNAH-JONES
HEALTH EQUALITY ADVOCATE – DR. ALA STANFORD
BUSINESS ALCHEMIST- ROZ BREWER FAMILY NEEDS AMBASSADOR – KIM FORD
REPARATIONS AMBASSADOR – ROBYN RUE SIMMONS
Hosted by Erica Campbell and Roland Martin this year, the annual awards program will feature three performances dedicated to International Sweethearts of Rhythm, the critically acclaimed, all-female jazz band of the 1930s. The band included Helen Jones Woods, a founding member, and mother of Hughes.
Each musical selection will commemorate electrifying performances of the jazz and soul ensemble's hit singles with a modern twist. The ceremony will also feature talented, contemporary, female performers including Jazmine Sullivan, Da Brat, Le'Andria Johnson, Avery Sunshine, and the all-female house band Kim Burse and the KB Players. 
DMX's UNCENSORED episode was filmed three weeks before his passing and is confirmed to be his final and most transparent to date. This episode will highlight the rapper in his own words as he discusses his more than 30-year career and legacy in hip hop. Raised in Yonkers, New York, by his mother, DMX was considered a "problem" as early as kindergarten. A tumultuous relationship with his mother caused him to bounce between boys' homes and eventually detention centers.
"DMX sat down with our team and was completely UNCENSORED," Hughes said. "We have one hour with the late rapper in his own words. For DMX to be with us just three weeks before God called him home, I believe it's truly divine intervention. I thank Nikki from SWIRL films for staying the course because he kept telling her 'no', but thankfully we were able to make it happen. His family, fan club, friends, and supporters will be happy with the way he told his story for the last time. The two-part special will air directly before the annual Urban One Honors. I'm particularly excited because I feel like this will be the biggest night in TV One History."

– Cathy Hughes
DMX's UNCENSORED special will air at 8 p.m. est on Sunday, May 16, and the Urban One Honors will air right after at 9 p.m. est.