Famed Luxury Avianne & Co., known for their creation of bespoke jewelry for some of the best in pop culture, will focus on health and stop the violence with a community event in the Robert Fulton community in New York City that will include a basketball tournament and activities for kids.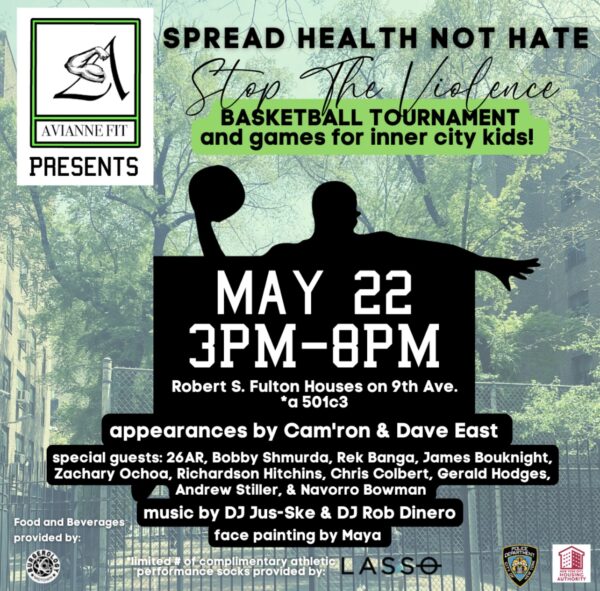 Brothers Joe and Izzy Aranbayev, the Avianne & Co., second-generation family leaders of their successful brand were brought to the States to learn the family business and craft the brand that exists today. Avianne Fit was born to inspire kids in the inner city to give them hope and inspiration and give them a steady mentorship program.
Avianne Fit is the luxury brand's health and wellness branch that works with inner-city youth around New York City and the boroughs to help give kids structure through physical activity and sport. They've worked with celebrities like Coi Leray, Future, 21 Savage, Migos, T-Pain, Jada Pinkett Smith, Bobby Shmurda, Kevin Durant and Von Miller, to name a few.
The community event will take place on May 22 from 3 p.m. to 8 p.m. and will spread Joe Aranbayev's message of "Spread Hope, Not Hate" and "Stop the Violence." 
Joe Aranbayev and his decorated allies will to give back to the Robert Fulton community and get the youth involved with a celebrated Basketball tournament as a positive way for kids to play and interact with public figures from their community.
"Working with people from all walks of life that include music, politicians, athletes, and business owners is so very important as I want to show the kids that a dream can be possible and hard work through positivity and hope with working on one's selves from the inside from a health and wellness perspective only makes kids feel better about themselves," Joe Aranbayev said in a statement.
Along with donating to the community, Avianne Fit will have Cam'ron, Dave East, DJ Jus Ski, Bobby Shmurda, James Bouknight, Richardson Hitchins, Zachary Ochoa, Chris Colbert, and Gale Brewer (Member of the City Council, Former Manhattan Bureau President) make an appearance during the event.
The event will also feature face painting by Maya for the kids to enjoy. Food and Beverages will be provided by Burgerology Midtown.
"When we moved to this country, we had strong family ties that helped us kids focus and learn a craft that helped us self-serve in our community," Joe Aranbayev said. We grew up in the inner city hard knocks of East New York which is why it's so important to give back."