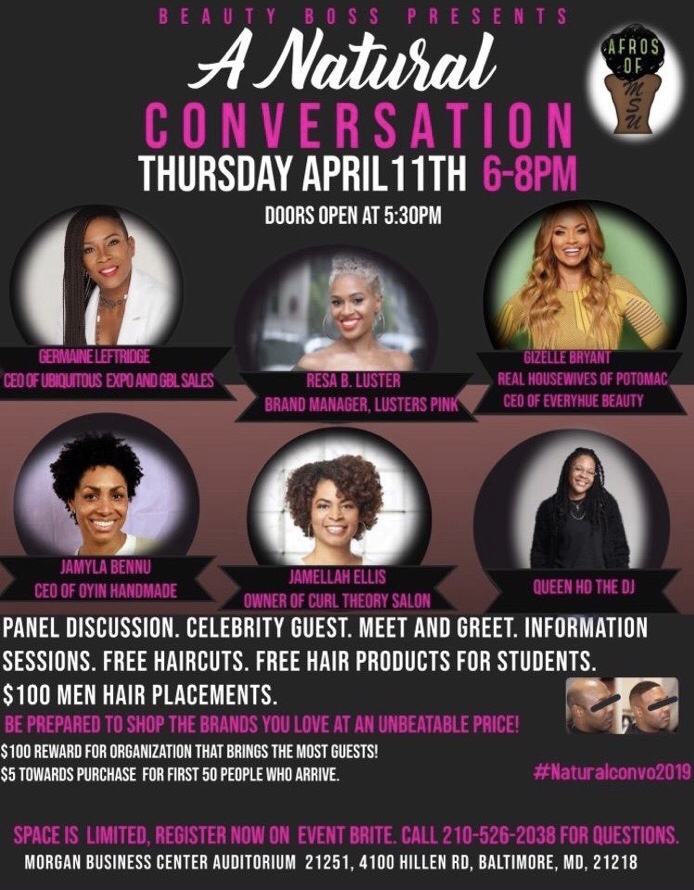 On Thursday April 11, 2019 at Morgan State University, Beauty Boss Presented A Natural Conversation was held with panelist Germaine Leftridge, Resa B. Luster, Jamyla Bennu and Jamellah Ellis. They all spoke on their ventures in entrepreneurship in the hair care industry.
Resa is the Brand Manager for Lusters Pink. Although it is her family's business that was founded by her grandfather in 1957, Resa is bringing a new face to luster in promoting products around the country with all the new lines and products Luster has given us over the years.
Bennu is the CEO of Oyin Handmade, an all natural hair care line based in Baltimore, Maryland. Bennu and her husband began the company in 2001, and 18 years later, they are still independently owned and operated. Bennu also created the Oyin Handmade Saturday Boutique, which is of course, opened on Saturday. It is located at 2103 N Charles St, Baltimore, MD 21218.
Ellis was a lawyer, but took her love and passion for hair care to create Curl Theory Salon and Products. These products are now being sold in select targets around Maryland. Ellis' actual Curl Theory Salon is located at 15511 Emerald Way, Bowie, MD 20716.
All of these women have something in common they work with Mrs. Leftridge. Leftridge is the CEO of GBL Sales, a brokerage firm that works with Health and Beauty Brands in the Northeastern and Southeastern Markets. Mrs. Leftridge is also the CEO of Ubiquitous Expo, which takes place at the Washington D.C Convention Center every year.
Although working with 16 different brands, Leftridge takes the time to know the story and personal accomplishments of the people she works with. During the panel she spoke to the accomplishments of each woman there, there was no sense of 'I'm your boss' or 'I funded your company,' but a sense of camaraderie and friendship between them all. A "friendly competition between the ladies and their companies'." Leftridge is passionate about what she does and she really believes in the products she promotes.
There was a sense of black power and girl power in that room. We love our black men but us women have to stick together and support each other and that spirit filled the room that evening. Leftridge used the phrase "The Power of Us," to show the sense of Black people needing to work together and support each other.
Mrs. Leftridge spoke with us after the event to give us some insight on herself and her company, along with some motivational words on just how to be a boss.
Leftridge, Luster, Bennu, and Ellis all had amazing stories, and were very insightful for the potential young entrepreneurs in the room at A Natural Conversation. If you want to learn more about these ladies connect with them via instagram to see what it is really like to be a girl boss in 2019!
Germaine: @DetroitGermaine / @ubiquitous_ expo
Resa: @ResaBLuster / @lusterpink
Jamyla: @heyjamyla / @oyinhandmade
Jamellah @jlovesjan / @curltheorysalon
Hope to see you at Ubiquitous Expo this August 24th and 25th!