K. Michelle is going back on tour in support of her forthcoming album, "I'm The Problem."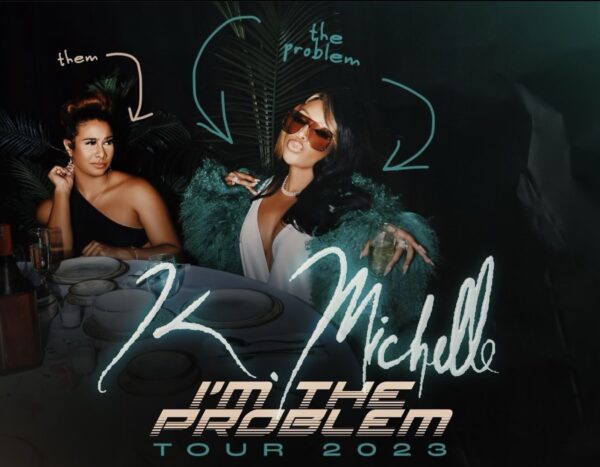 Kimberly "K. Michelle" Pate has done spot dates for the past few years given the pandemic, but her last tour started in late 2019.
The "I'm The Problem" album is set to be Pate's last R&B album, as she ventures into Country music.
In a tweet, Pate said the album is coming on a "very special tour date" and that that " V.I.P experience on that night is going to be a time."
Pate and her VIP meet and greet create special moments between her and her fanbase, the "Rebels."
Pate has given fans glimpses of new music through social media, but there's no guarantee on what's actually going to be on the album.
Pate will kick off her tour in D.C., followed by Baltimore.
Tour Dates:
Thu, February 23 – Washington, D.C. – Howard Theatre
Fri, February 24 – Baltimore, MD – The Lyric
Sat, February 25 – Raleigh, NC – The Ritz
Sun, February 26 – Charlotte, NC – The Fillmore
Thu, March 2 – Pittsburgh, PA – Roxian Theatre
Fri, March 3 – Philadelphia, PA – Keswick Theatre
Sat, March 4 – New York, NY – Sony Hall
Sun, March 5 – Boston, MA – Big Night Live
Thu, March 9 – Cleveland, OH – House of Blues
Fri, March 10 – Cincinnati, OH – Bogart's
Sat, March 11 – Chicago, IL – The Vic
Sun, March 12 – Milwaukee, WI – Turner Hall Ballroom
Thu, March 16 – St. Louis, MO – The Factory
Fri, March 17 – Nashville, TN – Marathon Music Works
Sat, March 18 – Memphis – Minglewood Music Hall
Sun, March 19 – Oklahoma City, OK – Tower Theatre
Thu, March 23 – New Orleans, LA – House of Blues
Fri, March 24 – Dallas, TX – Majestic Theatre
Sat, March 25 – San Antonio, TX – The Aztec
Sun, March 26 – Houston, TX – House of Blues
Sat, April 8 – Atlanta, Ga – Center Stage