The book raffle will be from June 1 until June 15 at 6 p.m. EST. If you win, you will be contacted, and the books will be shipped to you with a tracking number.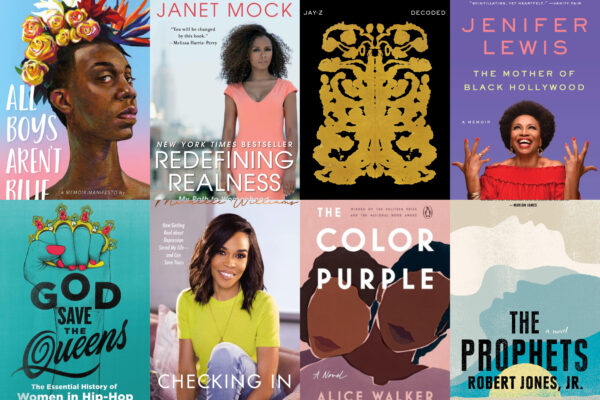 Funds will go to:
The website and the relaunch of our site's magazine.
Paying creatives/journalists to continue to help expand the brand, and produce more original content.
View past interviews/content here.
There are four raffle sets: Music and Mental Health, LGBTQ Novels, LQBTQ Memoirs, and Hip-Hop Culture. Each ticket, which gains you two entries, is $5.
If there are two raffles you want to enter, you can do so by clicking here to purchase the two set for $8 combo.
Music and Mental Health:
Jenifer Lewis – "The Mother of Black Hollywood"
This "Mega Diva" and costar of the hit sitcom black-ish bares her soul in this touching and poignant—and at times side-splittingly hilarious—memoir of a Midwestern girl with a dream, whose journey took her from poverty to the big screen, and along the way earned her many accolades.
With candor and warmth, Jenifer Lewis reveals the heart of a woman who lives life to the fullest. This multitalented "force of nature" landed her first Broadway role within eleven days of her graduation from college and later earned the title "Reigning Queen of High-Camp Cabaret."
In the audaciously honest voice that her fans adore, Jenifer describes her transition to Hollywood, with guest roles on hits like The Fresh Prince of Bel-Air and Friends. Her movie Jackies Back! became a cult favorite, and as the "Mama" to characters portrayed by Whitney Houston, Tupac Shakur, Taraji P. Henson, and many more, Jenifer cemented her status as the "Mother of Black Hollywood."
Michelle Williams – "Checking In: How Getting Real about Depression Saved My Life—and Can Save Yours"
As a member of Destiny's Child, one of the top female R&B groups of all time, Michelle Williams felt blessed. After the group disbanded, she continued to create bestselling albums, appear on television shows, and star in theater productions. Though she had always struggled with low moods, in 2018 her depression deepened, and when she found herself planning her own funeral, she checked herself into a treatment facility. There she found the help she needed to live out the incredible story God was writing for her life.
In her first book, Michelle courageously shares the hidden secrets that nearly ended her life; the importance of her faith, family, and friends; and the lessons she learned about prioritizing her mental health. She is on a quest to increase mental health awareness and urges others to understand the importance of "checking in" with themselves, God, and others. Her candid, often humorous, and incredibly brave book will inspire readers who desire hope for their own difficult times.
LGBTQ Novels:
Alice Walker – "The Color Purple"
Celie has grown up poor in rural Georgia, despised by the society around her and abused by her own family. She strives to protect her sister, Nettie, from a similar fate, and while Nettie escapes to a new life as a missionary in Africa, Celie is left behind without her best friend and confidante, married off to an older suitor, and sentenced to a life alone with a harsh and brutal husband.
In an attempt to transcend a life that often seems too much to bear, Celie begins writing letters directly to God. The letters, spanning twenty years, record a journey of self-discovery and empowerment guided by the light of a few strong women. She meets Shug Avery, her husband's mistress and a jazz singer with a zest for life, and her stepson's wife, Sophia, who challenges her to fight for independence. And though the many letters from Celie's sister are hidden by her husband, Nettie's unwavering support will prove to be the most breathtaking of all.
Robert Jones Jr. – "The Prophets"
Isaiah was Samuel's and Samuel was Isaiah's. That was the way it was since the beginning, and the way it was to be until the end. In the barn they tended to the animals, but also to each other, transforming the hollowed-out shed into a place of human refuge, a source of intimacy and hope in a world ruled by vicious masters. But when an older man—a fellow slave—seeks to gain favor by preaching the master's gospel on the plantation, the enslaved begin to turn on their own. Isaiah and Samuel's love, which was once so simple, is seen as sinful and a clear danger to the plantation's harmony.
With a lyricism reminiscent of Toni Morrison, Robert Jones, Jr., fiercely summons the voices of slaver and enslaved alike, from Isaiah and Samuel to the calculating slave master to the long line of women that surround them, women who have carried the soul of the plantation on their shoulders. As tensions build and the weight of centuries—of ancestors and future generations to come—culminates in a climactic reckoning, The Prophets masterfully reveals the pain and suffering of inheritance, but is also shot through with hope, beauty, and truth, portraying the enormous, heroic power of love.
LGBTQ Memoirs:
Janet Mock – "Redefining Realness: My Path To Womanhood, Identity, Love & So Much More"
In her profound and courageous New York Times bestseller, Janet Mock establishes herself as a resounding and inspirational voice for the transgender community—and anyone fighting to define themselves on their own terms.
With unflinching honesty and moving prose, Janet Mock relays her experiences of growing up young, multiracial, poor, and trans in America, offering readers accessible language while imparting vital insight about the unique challenges and vulnerabilities of a marginalized and misunderstood population. Though undoubtedly an account of one woman's quest for self at all costs, Redefining Realness is a powerful vision of possibility and self-realization, pushing us all toward greater acceptance of one another—and of ourselves—showing as never before how to be unapologetic and real.
George M. Johnson – "All Boys Aren't Blue: A Memoir-Manifesto"
In a series of personal essays, prominent journalist and LGBTQIA+ activist George M. Johnson explores his childhood, adolescence, and college years in New Jersey and Virginia. From the memories of getting his teeth kicked out by bullies at age five, to flea marketing with his loving grandmother, to his first sexual relationships, this young-adult memoir weaves together the trials and triumphs faced by Black queer boys.
Both a primer for teens eager to be allies as well as a reassuring testimony for young queer men of color, All Boys Aren't Blue covers topics such as gender identity, toxic masculinity, brotherhood, family, structural marginalization, consent, and Black joy. Johnson's emotionally frank style of writing will appeal directly to young adults.
Hip-Hop Culture:
Kathy Iandoli- "God Save the Queens: The Essential History of Women in Hip-Hop"
For far too long, women in hip-hop have been relegated to the shadows, viewed as the designated "First Lady" thrown a contract, a pawn in some beef, or even worse. But as Kathy Iandoli makes clear, the reality is very different. Today, hip-hop is dominated by successful women such as Cardi B and Nicki Minaj, yet there are scores of female artists whose influence continues to resonate.
God Save the Queens pays tribute to the women of hip-hop—from the early work of Roxanne Shante, to hitmakers like Queen Latifah and Missy Elliot, to the superstars of today. Exploring issues of gender, money, sexuality, violence, body image, feuds, objectification and more, God Save the Queens is an important and monumental work of music journalism that at last gives these influential female artists the respect they have long deserved.
Jay-Z – "Decoded"
Decoded is the autobiography and memoir of Jay-Z, combining lyrics and their explanations, anecdotes, reflections, and autobiographical information. Jay-Z explains in three reasons why he wanted to write the book, being a case for hip-hop lyrics as poetry, to tell a generational story turned into powerful experiences and revolved as a story everyone can relate to.