Although she is "a little nervous and anxious," Aya Ito is still "excited" about the release of her debut solo EP, "Just Might," which also highlights her Japanese upbringing.
Ito has released previous singles "Something New," "Spellbound" and her cover of "If You Let Me," but her debut EP takes listeners on a storytelling journey that starts with her song "Heart of Stone," a song that was started during the peak of the COVID-19 pandemic.
"I had just gone through a breakup right before everything shut down," Ito said of the project. "I had talked to people who were also; either they went through a breakup or even friendships kind of suffered because of everything that was going on. So this EP starts off kind of sad with a breakup. But then, I didn't want it to end sad."
Ito said she grew and so did her relationships, so she wanted "Just Might" to reflect that growth.
"I wanted the EP to reflect the story of, 'yeah, things might be rough at the beginning of something, but there's always cycles and it'll, it'll find its way to a happy place,'" Ito said,
Ito sends the message she wanted to create and also displayed her creativity through her Japanese roots with a Japanese version of her song, "Keep U" and her cover of "If You Let."
"I've put out music that's partially in Japanese," Ito said. "The hook might be in Japanese or the Bridge might be in Japanese, but I haven't put out anything that's like, the entire thing is Japanese," Ito said. "I really, really wanted that to be a part of like my debut EP, but also since we have five English songs, I was like, 'let's just do it separately.' That way, people can know that there's a difference between the two projects."
Although she is Japanese and Black, Ito brought in another native Japanese speaker to help put her best foot forward when it came to translating the English songs into Japanese.
"You obviously can't translate everything word for word because it's not gonna rhyme," Ito said. "It might not make sense, it might be too long. We had someone help who's also a native Japanese speaker, and that was super helpful because I'm not used to writing a lot in Japanese, so having someone who could be a little bit more poetic with it was very helpful. I obviously want to get to a point where I can do it by myself, but I've written stuff from scratch and that's a little bit easier than translating something."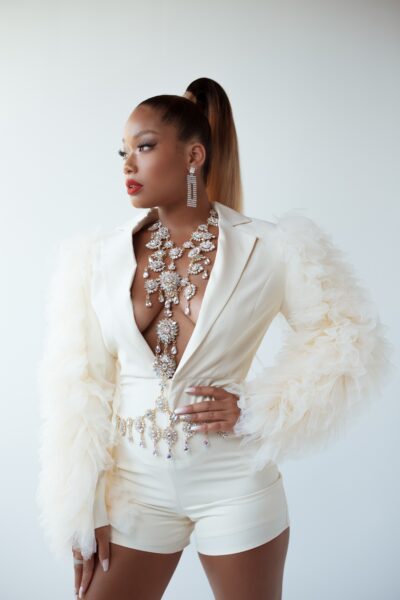 Being inspired by her own experiences, Ito said music can help "find a song for every emotion you're going through. Anything you're going through, there's a song out there for you. And if there's not, then I kind of wanna write it. That kind of stuff really inspires me."
"I just hope it at least relates to someone out there; just one person out there relates to it and like it helps them through something, cope with something," Ito said on her hopes for the project. "That would be awesome. I just want people to take away that you can put your work into something and make something tangible with it. And no matter how long it takes, it's worth it if you have a passion for it."