On July 16, Runaway New York will have a "Nights" concert series with artists Laundry Day, Chad Nelson, Tyler Miller and Carlo Redl. The fight "Nights" event happened in London, and the brand is bringing the concept to its home base.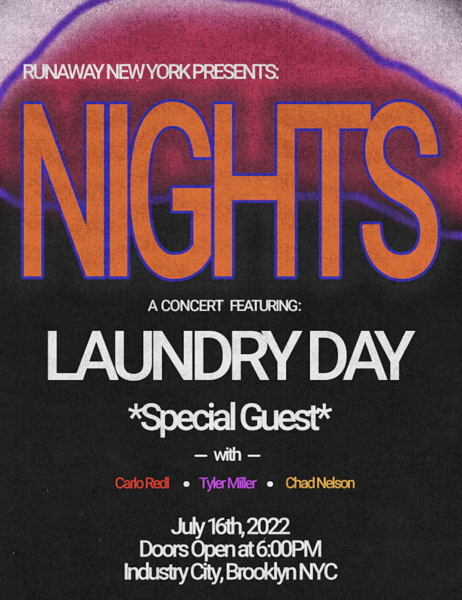 Runaway New York is a fashion and lifestyle brand founded in 2018 by Jagger Walk (CEO, and Creative Director), which creates creating apparel, fragrances, and jewelry and has also partnered with Pharrell Williams Billionaire Boys Club. They focus on giving back to New York City and the goal of its "Nights" series is to share its platform with other budding creatives.
Partnering with artist Tyler Miller and his manager Jack Berk; the three have come together to bring Brooklyn a "micro" festival made by the youth for the youth. Highlighting up-and-coming artists on Saturday, July 16th, 2022, the show is headlined by Laundry Day with Tyler Miller, Carlo Redl, and Chad Nelson opening the show which will be accompanied by exclusive Runaway New York merchandise.
"Industry City is the perfect place to debut Nights in New York City for many reasons. From its location to the amenities, and general atmosphere, we felt this would be the most fitting setting for the event" said Jack Berk, one of the event's organizers.
A portion of the profits will also be donated to Citymeals on Wheels. The show will take place at Industry City Courtyard 1/2 and tickets will be sold to the public for all ages. Food and drink will be available for purchase as well. The doors open at 6:00 PM and the show is expected to go on until 11:00 PM.