Music connects us all. Whether you produce it, or just consume it. There's a special middle ground that helps bridge the gap between an artist and their fans. A music journalist can provide insight, and provoke thought. They can push the boundaries, while still being respectful. Antwane Folk is a voice that should be heard, and an opinion that is sure to be extremely valuable for the culture.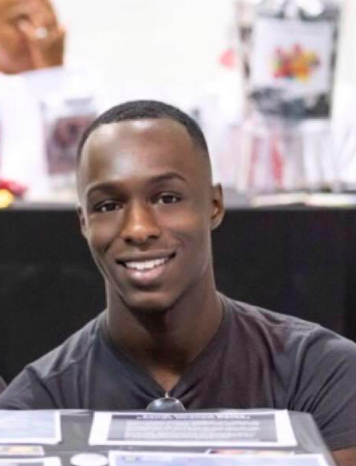 Folk is an editorial assistant at RatedRnB.com, a prominent R&B music outlet that informs the masses. He has been writing with the brand for a little over five years, but his love of music traces back to his childhood. Folk recalls the first two R&B songs he fell in love with. The first being Soul for Real's "Candy Rain," followed by Monica's "Don't Take It Personal."
"I remember being in the backseat, singing and going off to that song [Candy Rain]."
But when did music journalism come into play? Folk credits his love for the Queen of Hip-Hop Soul, Mary J. Blige. He decided to incorporate what he knew about Blige, and started a page on Facebook where he promoted everything going on surrounding Blige's My Life II… The Journey Continues. Using his love of Blige, and his degree in public relations, Folk was able to begin his career.
"Mary was getting ready to promote an album, My Life II, and during that time I was in college. At that time, I felt like R&B artists had little to no promotion surrounding their projects… I didn't want to just start with her, and neglect the other artists. I wanted to spotlight every artist… In 2012, I saw an ad online for a writer, and I decided to jump on it."
That online ad was for RatedRnB, and Folk has had many great moments with the website, as well as the website as a whole. One of those moments was in 2018, when Folk was doing an interview with longtime Sade bandmate Stuart Matthewman.
"It just kind of stumbled in my lap. I was doing an article, a revisit of Maxwell's sophomore album with a band member who is a part of the group Sade… Towards the end of the conversation, we started talking about possibly revisiting an album of their's. And that conversation led to him sharing that they're working on new music"
Theres no inclination of when we'll get a new Sade album, but as R&B changes, will they change with the times? R&B has been a staple for the culture, and it's been used to bring people together. We've held it to a different standard, which isn't fair for artists, and their growth. This has resulted in the "R&B is dead" conversation.
"I think that R&B has evolved in general," states Folk. "Just like every genre has done. R&B kind of gets criticized more for whatever reason that is. There's certain things that people miss from R&B, whether it be more soulful singing, or how much is being written for a song. As we know now, songs are getting shorter and shorter. There's just a lot of things people have an expectation for when they listen to an R&B song… with that not happening, on top of promotion not being a priority of labels for R&B artists, it became a point where they weren't getting enough love, even at awards show."
"Even publications started this narrative that R&B was dead. So with that, everyone else began chiming in and believing that is the case, when it isn't. I just felt like, for me, I'm glad that I have a platform where I can continue to promote these R&B artists, and let people know they're still out here thriving and doing great work."
What does Folk hope to accomplish in the future? To step out of his comfort zone. Maybe try vlogging, and being more visible. Possibly a podcast as well. "I'm a shy person, as you can tell," Folk stated. But of course the writing will continue. "Just more writing, I'm always writing. I'm always on my computer. Trying to find different and creative ways to tell stories…I want get taken seriously as a music journalist. I want to be able to be a part of those conversations that people are having. Be called on to do things, be on panels, and things like that…"