From the moment fans saw JoJo's silhouette behind the white sheet as she arrived on stage, she commanded the attention of every pair of eyes. Hearing fans chant "JoJo, JoJo, JoJo," the sheet fell, and with the first note belted, excited screams filled The Filmore in Silver Spring, Maryland.
Opening the show with her single "What You Need" was synonymous with the energy JoJo displayed, letting fans see that in that moment, she was what they needed. Not only was she singing like she does, because people that appreciate music know JoJo is a sanger, but she was giving choreography as well, dancing all over the stage.
Fans were singing along with JoJo, word for word, bar for bar, from the "What You Need" opener to "Man," then to "Spiral SZN."
JoJo didn't just perform but provided an experience with smoke, technicolor lights, lasers and more. Each light set seemed to flow effortlessly with each single, creating a continuous show. Even when she sweated out her mic pack during the set and it had to be fixed, she never missed a beat.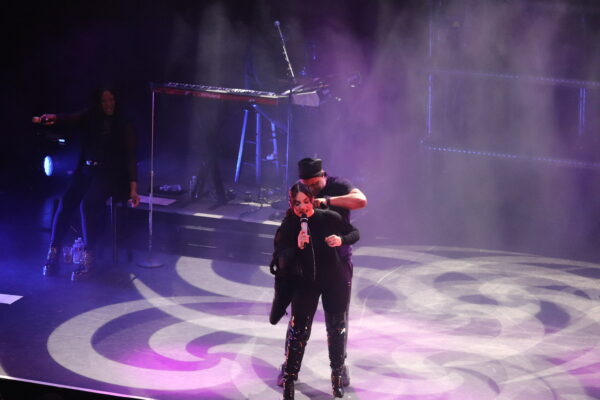 JoJo on tour is a moment of triumph that anyone who has listened to or watched her grow, can appreciate.
During her soldout show, JoJo constantly engaged with the audience, displaying full awareness. She even collaborated with Baltimore and DMV talent for the show. JoJo brought out artist Saxl Rose during her set and said her hair and makeup were done by local talent, all of which she met on social media.
As I moved through the venue, there was never a song where people did not sing along, which included songs from recent albums 'trying not to think about it,' 'good to know,' and 'Mad Love.' She even took it back and sang some bops from her first two albums, giving fans a throwback moment towards the end. When the beginning notes of "Leave (Get Out)" began, screams were heard throughout, then she went into "Too Little Too Late," giving fans that sentimental track from 2006, but with grown woman vocals, which allowed the message to hit a little harder.
Not only did fans enjoy the throwback moment, which included another throwback track, but it was clear JoJo did as well. When she sang the "Leave" in "Leave (Get Out)," she felt that. Kicking the imaginary door closed in her high heel boots, hitting the ground when belting out certain notes and displaying full-on emotions. Beautifully enough, the throwback bops aren't JoJo's current situation, as she's happily engaged to actor Dexter Darden and that happiness could be heard when she sang SWV's "Weak" (a song she covered on her first album).
Accompanied by openers Lindsey Lomis and Tanerelle; all three ladies provided a different vibe and feeling that amassed The Filmore Silver Spring. From Lomis playing her guitar and singing solo to Tanerelle gracing the stage in her shimmering outfit and sultry vocals; both artists were unique in their own ways, and showed why JoJo picked them.
While some people were still arriving for the show when Lomis was performing, they were stopping when they walked through the door, taking her in and joining the audience she was already captivating and seemingly impressed. By the end of her set, The Filmore was packed and cheering her name.
Once Tanererlle walked on stage following a short intermission, all eyes and cameras went directly to the stage. Not only did her vocals steal the show, but her confidence that was displayed through her outfit and her afro could be felt through every note she sang, and every strut across the stage.
It should also be noted that Tanerelle is completely independent, and backed by a small and close team of all Black women.
JoJo's tour, through Live Nation, was a moment for the 90's kids that grew up with the artist. There was not just a sense of nostalgia, but one of growth. Given what JoJo has gone through, musically (which also impacted her mentally and emotionally at times), she came out on top.
She's living her life, telling her story, and the music shares that insight. JoJo definitely demonstrated why she was able to maintain longevity with this tour, especially with proving bops since 2004. Another thing that makes the tour impressive is the fact that JoJo is self-funding her tour.
JoJo has a few remaining tour dates left, which include New York City, Boston, Detroit and more. View more information here.